Flipkart which is the Largest and the Top Most Marketplace and now a days it is the Top Most Position by the revenue, it left behind Large Companies Like Tata, Hindalco, Jet Airways etc..
This article is written by Gurudatt sharing his own experience as an online seller with all major ecommerce marketplaces in India.
First Few words of Mr. Gurudatt and after that I am sharing my Experience also.
"I was excited when I decided that I would sell home appliance products online through ecommerce portals. I made the list of products I wanted to sell and uploaded my catalog on the websites. On day 1, I got 11 orders. Who could stop me now? I was on a journey of infinite miles.

The initial days were good as I was just focusing on number of orders I got per day. I reached 10, 15, 30, 50 orders per day and I started dreaming of becoming a millionaire soon. Dreams are great but I was not keeping the accounts of the sales properly. One day, my charted accountant called to ask all sales and purchase details to file monthly returns, then I looked at all my bills, bank account statements, invoices, pending payments from eCommerce websites and could not find a logic or proper cash flow in my accounts. I started digging my invoices and got to know that I was losing more money on product cancellations, returns, logistics, and marketplace commissions than I expected.

On An Average the Marketplaces Charge

Marketplace commission – 15%
Domestic shipping per Kg – Rs 30
National shipping per Kg – Rs 45.
Fixed commission per order – Rs 10 (for orders above Rs 250)

Along with these, I incurred huge losses in

*Customers using products for a week and sending them back.
*Product damages (they tell us we can claim for damages, but they never do).
*Product returns (they come in a condition, where we cannot resend to other new orders. Most of the covers/corrugated boxes of brands are damaged.)
*Reverse logistics charges (When you cancel, the seller pays the return logistics charges)
*Marketplace commissions (When you cancel, we the sellers are still charged the commission).
*Product Cancellation (Paytm charges a commission of 15% + logistics fee of Rs 45, when you order and cancel in minutes. See the logic, the customer cancelled it by choice and order not yet shipped. But still seller has to pay commissions).

Please Note That The Average Return Rate For Ecommerce In India Is 30 %.

Our Operational Cost

* Office Rent.
* Admin costs (I have 1 person for packing apart from me )
* Packing material costs (on avg Rs 15 per order package ).
* Transportation cost incurred for product purchases.

I do not have a retail shop, so my costs are minimum. But can you imagine the above expenses if I was paying Rs 1 lakh rent for my shop?

Logistics Issues

* The pickup guys do not come regularly. If they skip pickups for 1 day, 30 % of our customers cancel the orders. And no company takes the responsibility. They tell you, "Vehicle was not available".
* We have to call the pickup guys every day and tell them the number of orders and whether they should send a van or bike. Amazon and Flipkart does a good job here by making the process automated. But Ecom, Bluedart, Delhivery teams are way behind in communications.

Payments

* Shopclues take 30 days to settle the payments (so we quit selling there).
* Flipkart -15 days for settlements after the product reaches customer.
* Amazon – 10 days for settlements after the product reaches customer.
* Paytm – 8 days for settlements after the product reaches customer.

Sellers are made to compete for pricing. I have seen sellers playing the number game rather than serving the customer. Sellers are left with very little or nothing at the end. You will ask, why are sellers not complaining?

I do not know. But most retailers who started selling online but gave up after 2 to 3 months, couldn't communicate with anybody. They either get satisfied with offline sales or think it's not for them.

Every day thousands of sellers are added with no knowledge of the rules of the game. The companies talk big numbers and sign them up. But the companies never call and ask you how you are doing or what problems are you facing with business or how they can help to grow our business…?

Taxation

I bet 99.999% of charted accountants do not know how eCommerce taxation works. Not to blame them, but every company generates invoices in different formats and and when we sit for filing our returns, its headache.

Marketplace?

The eCommerce companies have total control on our inventory. They can block us anytime, make our listings inactive anytime, can damage our orders in transit, delay our payments, cut huge commissions, cut buyer claimed refunds without giving any notification.

Dear Online Buyers,

Who is paying for your offers or discounts? Please note, that to change your online purchasing behavior, habits or addictions, eCommerce companies are just racing to capture the market share to get more online buyers, increase their buying trends, capture all your shopping data to raise the next billion dollars from venture funds.

There is nothing wrong in ecommerce companies modelling their business and pricing the sellers with such policies. But in the long run, this is a biased business model, where sellers are screwed to make customers happy. The discounts and offers do not go a long way and the customer expectations are increasing day by day. To meet those expectations sellers are giving up their margins and closing businesses. "

Source From: http://inc42.com/buzz/open-letter-seller/
Thanks Gurudutt ji, I Read your Article I also want to Share all the things which you share so no need to share it again the Same Experience I had, as yours I also made Loss L
I am selling Antivirus Software's and Internet security Software's On Flipkart
Here one more thing I want to add the Calculation of the Flipkart and all Other Marketplace,
Generally don't know about Other Seller But I am Keeping my Eyes On the Seller Net Payable Amount on Every Marketplace giving this kind of calculator From where you can get an idea how much Exactly Amount you will be paid once the payment made.
So I am always Keep my Eyes on That calculator and using and changing my price as per other Seller Competition, but after 1-2 months when my Accountant Called me as you said in your article, I reached with all the Invoice and Bank Statements and Settled and Unsettled Statements,
After all the Calculation My Accountant show me Some Figures and I really shocked,
I am making Loss on Almost Every Product and few of product are earning 5-10 Rs. Only L
And on Flipkart's Big Billion Days Sales, I was very much Excited because, Flipkart gave me 2000 Rs. credit to advertise my product and join advertisement campaign,
70% to 80% of total loss I made on those 3-4 days which was Flipkart's Big Billion Days,
Because i thought Flipkart gave me 2000 Rs Credit to Advertisement so i will be Earn much more within 3-4 days, and really on those days I got 20-30 Order Per Days and i was very happy, and fulfilled all the products within time but without checking my selling and discounted price i focused to sold only, after those days i found which products i sold those price are Less than my Purchase Price and in that all the Charges applicable as you said before
Marketplace commission – 15%
Domestic shipping per Kg – Rs 30
National shipping per Kg – Rs 45.
Fixed commission per order – Rs 10 (for orders above Rs 250)
And flipkart's Big billio daysn become my big loss days
To show the calculation I am sharing the Image of the Calculator as well the Settled Payment Details.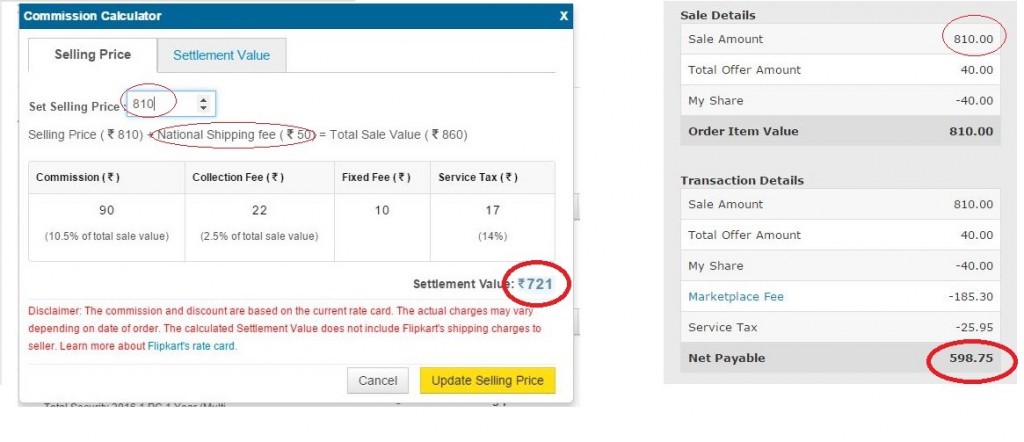 When I List the Product that time I make my Product Price  810 Rs + 50 Rs Shipping charges = 860Rs Total Charges As per Calculator when payment will be Settlement I will get 721Rs. And that is Ok for me,
When the payment settled I was shocked, See what Flipkart Paid me,
Sale Amount: 810 Rs
Discount: -40 Rs
Marketplace Fees: -185.30
Service Tax: -25.95
Net Payable: 598.75 Rs Only.
The Purchase Price of that Product is 600Rs.
600Rs (Purchase Price ) – 598.75Rs(Receive Payment)= 1.25 Rs loss per product,
And I sold many products on those big billion days Sale.
860(810+50 Shipping Charges)– 598.75 (Net Payment) = 261.25 Profit per Product
Profit of Flipkart 261.25Rs where Seller making Loss of 1.25Rs.
This is the Calculation of single Product which is only 810Rs. I am selling 30+ Products and some of 2500Rs -5000Rs also. Now you can think how much loss I made by doing business from Flipkart??
Really Flipkart have Big Billon Days Every Day they don't need to run special Day to Earn Billons,
Because as they are advertising that they have 30,000 Sellers and 4.5Caror Customers then obviously they Flipkart Earning billons and Billons on Every day.
Here I know how marketplace Specially Flipkart can become the 1st Rank in Online Market Place.
Because they are doing Happy their Customer as well Earning for them also and Sellers always make Losing don't know Other as said Gurudutt I did not called but as per my Experience Seller Defiantly make Loss if they Calculate Properly,
Few days back I read one of Article online I surprised
Flipkart's valuation is now over $15 billion (Rs 100,000 crore). In comparison, the stock market values the venerable Tata Motors at a mere Rs 95,000 crore.
Hindalco, India's largest aluminum company, has a market valuation of Rs 16,000 crore. Snap deal, which began trading just five years ago, is valued at Rs 35,000 crore. India's biggest airline, Jet Airways, with large assets, is valued at Rs 3,800 crore.
And After made loss by Business from Flipkart. I understood how it become over $15 Billon.
By my Experience and from Gurudutt Experience I can Only Advice to Other Seller make Proper Calculation, Are you Really Earning??
And if you don't then Stop Selling On Online, because by this way you are not Earing but yes the Online Marketplace Companies are Earning Billions and Billions,