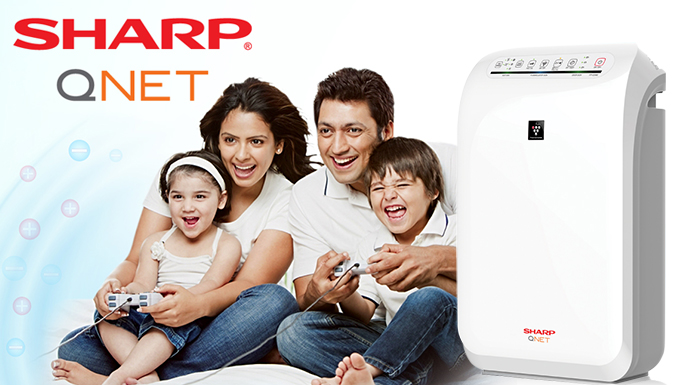 YOU CAN USE THIS LINK DIRECTLY 
FOR INDIAN CUSTOMER : -> CLICK HERE  
FOR OUT OF INDIA CUSTOMER  -> CLICK HERE
Use My IR ID No. of my referrer* Box : IN412421
Features & Benefits:
Air purifier with patented Sharp Plasmacluster technology – original Sharp sanitising technology that purifies the air by emitting positive and negative ions, as present in Forest-fresh air
 Eliminates 99.97% infection causing germs from air and other surfaces and reduces 99.9% mould and mildew
Deactivates suspended airborne mould, viruses, dust mite allergens, pollens and bacteria
 Very effective and high tech 3-stage filtration process
 Neutralises bad odours and other toxic gases
Removes static electricity from surfaces
 Reduces allergy triggers
 Improves health and immunity
Regular use helps improve skin's moisture levels and elasticity
Easy to use – just plug & play
Recognitions:

 Winner of prestigious Takagi Award for consumer health products from Japan
Certifier by 22 world's renowned Research Organisations
Certifierd by The British Allergy Foundation
After Sales Service:
Two-year on-site warranty
Five-year filter life
Safe and Ion–rich air as in Mother Nature!
Three stage hi-tech filtration process: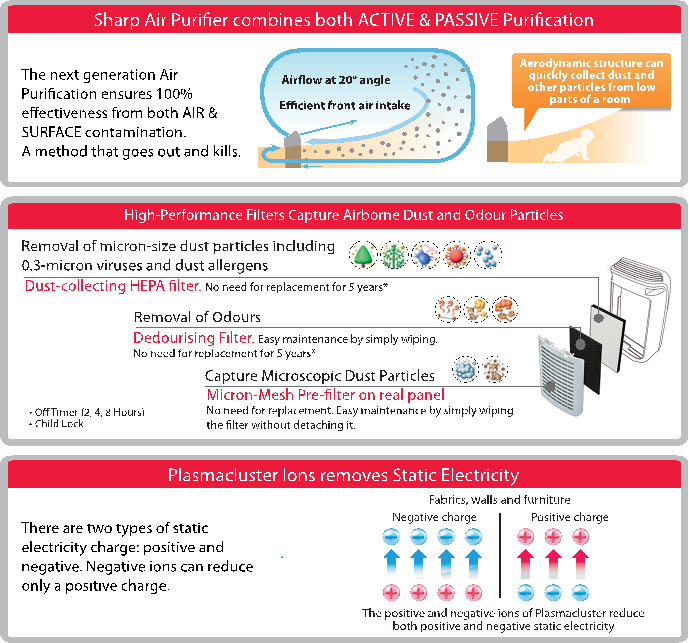 *When smoking five cigarettes a day. **Deodourising performance depends on the room conditions.

Plasmacluster Technology – splits water molecules into positively and negatively charged ions, which spread throughout the room and surround airborne particles. This system effectively restores the natural balance of ions in the air, like near a waterfall or just after a thunderstorm. This restored balance helps refresh the air and leaves it smelling cleaner.
Humidification Function – adds humidity to the air for improved air quality and maximum comfort, especially in colder weather. It also helps reduce static electricity that results from dry air.
True HEPA Filter – captures 99.97% of particles as small as 0.3 microns that pass through it, including pollen, mould, pet dander and dust. The special Antimicrobial Layer provides extra protection against viruses.
Front Display – shows Plasmacluster operation, dust monitor, humidity level, and indicator light to determine when the water tank needs to be refilled.

2 years onsite warranty l 5 years filter life
Just plug and play for a healthy life!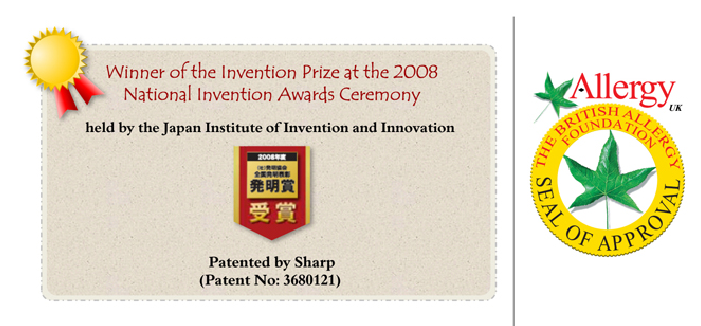 Only Sharp Plasmacluster Creates Fresh Air:
Takagi Award in Japan for breakthroughs in science and technology
This is the first time the Takagi Award has been awarded to a consumer health products company
Proven Effectiveness:
99.97% mould reduced, particulate matter, neutralized, allergy triggers, reduced, bacteria & viruses killed, static electricity reduced.
With Sharp Patented Plasmacluster Ion Technology and Certified by 22 Research Organisations
Natural Balance:
Mother nature has created a balance in the environment
The charged ions, both positive & negative are the main ingredients to maintain freshness in the atmosphere
The natural positive and negative ions are found in abundance in forests, mountains, and sea.
Today's Air Quality:
Pollutants – Problems and Challenges in the Air
Lack of sunlight, no/ less ventilation, and furniture create spaces that are favourable breeding grounds for  INFECTION causing substances.

if you are intrested to buy it then 
Contact on : christinedeniyal@gmail.com